Back when I was around the impressionable age of ten or so in the late 70's another one of those late night TV horror movie screenings forever imprinted itself in my mind, it wasn't the first one of course, more of that in a moment, but there were many such epiphany moments that insured a life long passion for horror cinema lay ahead of me, The first appearance of the Morlocks in George Pals1960 take on 'the Time Machine' worried yet excited me immensely as did many Universal monsterthons and assorted oddities Like 'Green Slime' and 'Bug'.
But ultimately it was Britain's Hammer, Amicus, Tigon and Tyburn terrors that provided the most exhilarating mind fuck terrors this deeply imaginative child could have prayed for, Christopher Lee's Mummy tearing through a barred asylum cell wall to slaughter it's victim incarcerated within, Don Henderson's cannibal monstrosity butchering John Hurt and Alexandra Bastedo in Tyburns 'The Ghoul'…moments of pure savage terror that scared me senseless and seriously upset my sleeping patterns for days. Yet despite this I was a child with the gift of being disturbed without showing it outwardly while viewing such delights, I kept it internalised and just kept on watching, a good thing really because if my folks who where watching with me had an inkling of how frightened I was I'd have ended up getting carted off to bed long before the end credits. So it was a case of "I know I'm scared but this is fantastic stuff that I don't want to miss so keep your gob shut, keep watchin' it and Mum and Dad won't be any the wiser and I'll deal with the nightmares later" …it worked and it helped make me who I am today, and that's scary.
Back to that moment that kicked off this blog…'Blood on Satans Claw', holly shit this grungy 1970 18th Century set rural England shocker from the Tigon studios was an instant belt around the chops and a punch to the senses to a ten year old expecting the usual fairytale terrors of vampires and Frankenstein monsters. This tale of witchcraft and Devil worship in a small village community in 18th Century England had a sense of depressive doom hanging over the story with moments of sheer terror and violence. It was straight in there and the opening sequence when the farm boy ploughing a dreary field on a dreary English day unearths the partial skull and eyeball of Satan staring up out of the churned up mud shocked and startled the living shit outta' me and it had me hooked forever, I still believe it's one of British horror cinemas finest films.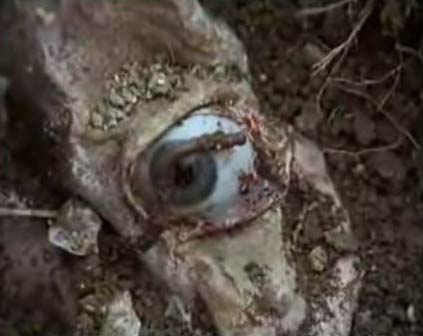 However despite all this gruesome beauty there was also the sex, now even at the age of ten I recognised somehow the charms of the female of the species in films and TV shows, hey folks I grew up with a mega crush on Lynda Carter's Wonder Woman, Caroline Munro, Sally James, Emma Peel, Erin Grey's Wilma Deering from Buck Rogers, Pans People, Daisy Duke and Princess Leia amongst other fantasy TV and Cinema totty, therefore seeing Linda Hayden naked ( although it may have been trimmed down a little for TV…no the nude scenes not 'THAT' ) as Angel, the village Devil worshipping strumpet seducing the local vicar and leading her fellow village idiot cult members in the mental climax with old Satan himself intrigued me as much as the horror did.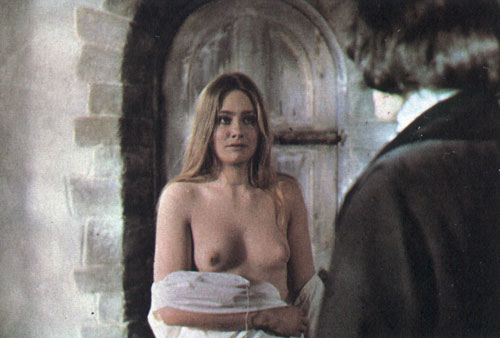 This brings me to the point of this blog…meeting Linda Hayden, something I'd wanted to someday do for a long time. Well I finally did last Saturday 16th April at Camden's Electric Ballroom Film Fair.
I was very excited when the dates for this fair came up with Linda Hayden as the main guest and the realisation that it was a free weekend for me with non of the usual work affairs and assorted nonsense that seem to clash whenever something like this is on, I've missed out on several Hammer related events of late so to not have anything standing in the way of Linda Hayden was a call for celebration and much anticipated excitement for me. So train tickets for me and Susie were booked and some time to save a few quid for my autographed photo and some memorabilia.
I really wanted to paint a special piece of artwork to give to Linda, something that represents my love of horror cinema and Hayden's films like I did last year for Robert Powell.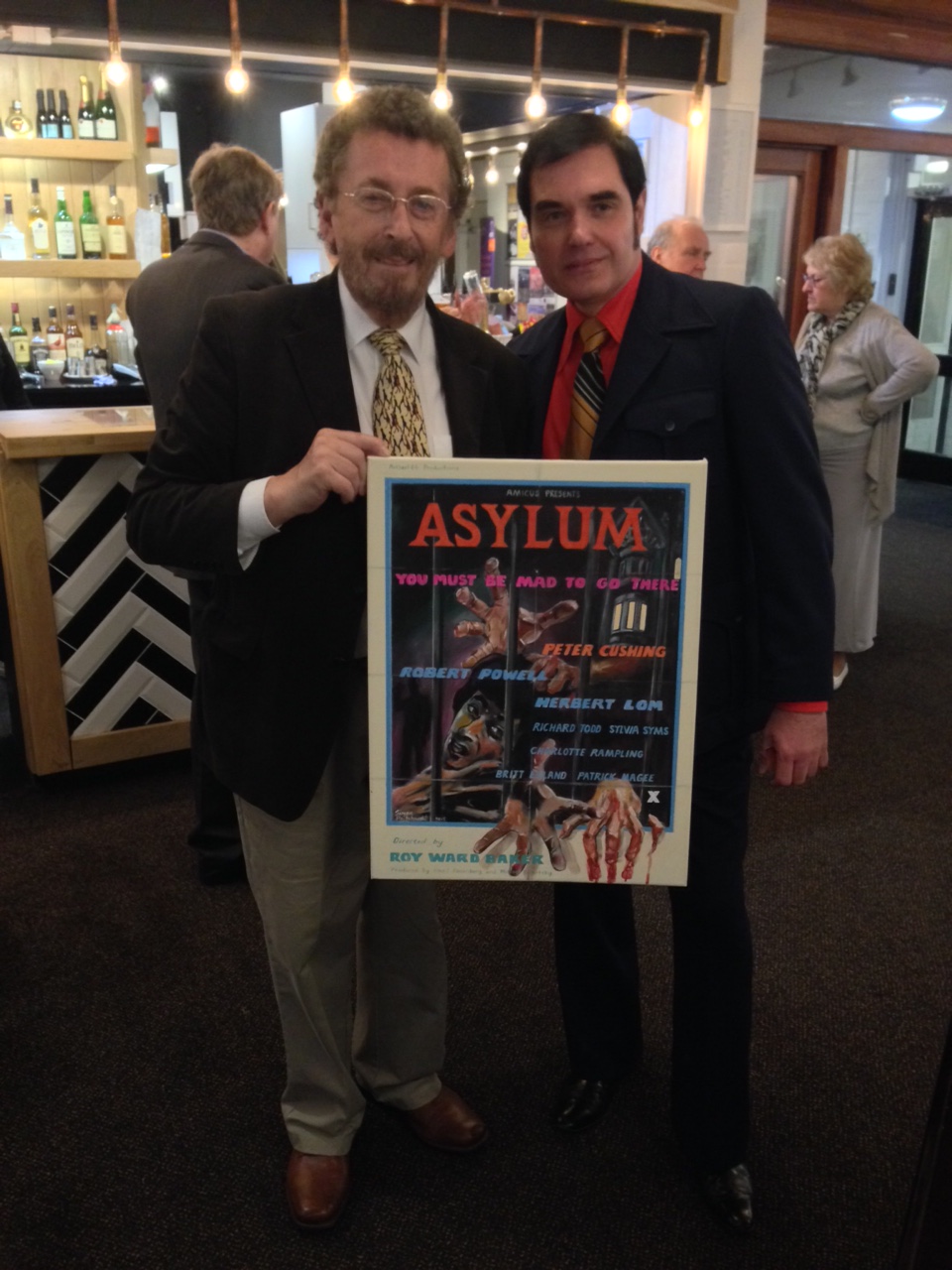 Now anyone who knows me well will be aware of my love for traditional painted cinema poster art before it all went down the shitty photoshop crapper so I created one of my vintage 70's style hand painted movie posters incorporating Linda as Angel from Blood on Satans claw turning on the old Devil himself with a word play title from her iconic role as female lead Alice in Hammers 'Taste the Blood of Dracula'…the final result being 'Taste the Blood of Angel' and if I may say so myself it really did look like a 1970's exploitation horror flick poster, the colours, the composition, the font…a good job I'm proud of, so I couldn't wait to present it to Linda Hayden herself.
Well we eventually arrived at the Electric Ballroom in Camden shortly after it had opened following the train journey from Norwich then several tubes to alight in Camden right next to the venue, we had seen it before so knew exactly where it was.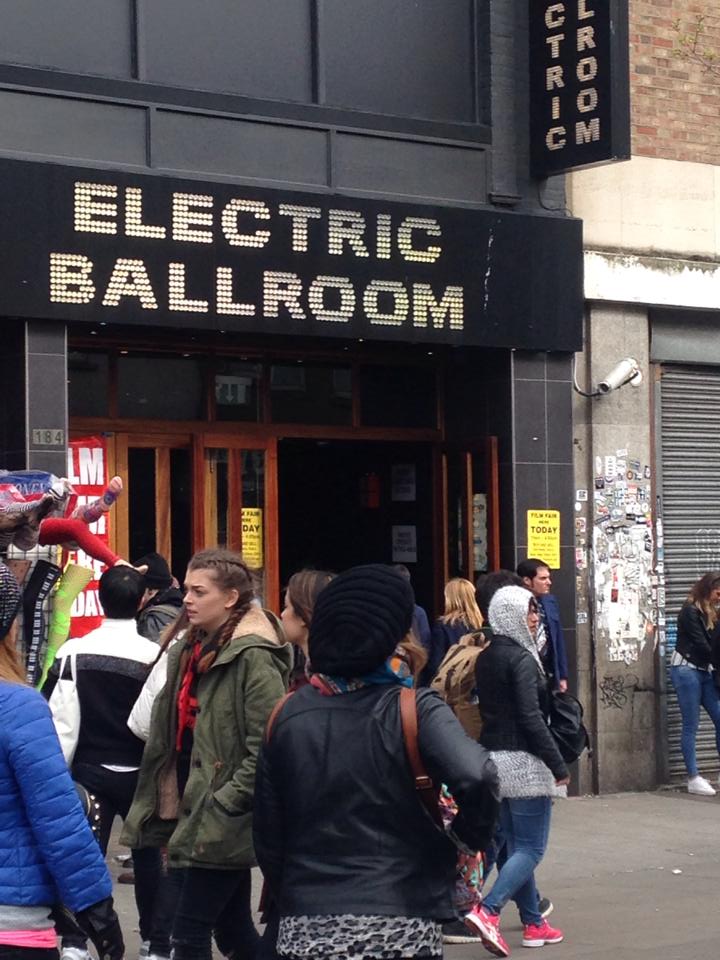 By this point my anticipation was through the sky, I figured there would be a line of fans and film fanatics talking bollocks like that computer repair geezer in Ricky Gervais' 'The Office' being all clever about Robert Wall and who he does and doesn't fight in 'Way of the Dragon', trust me I've met em' before) queuing  for Linda's autograph but to my surprise, and delight, she was already there but so far no queue, great, so after a quick trip to the gents for a draining of the Dragon and straightening of tie and hair Susie and myself made our way over to her table and introduced ourselves. To my relief she was instantly charming as we shook hands and I clocked how bloody good she still looks, pretty fit bird for 63. I scanned her selection of photos for autographing and found myself spoilt for choice, some great 'Taste the Blood of Dracula' stills, 'Madhouse', none from 'Satans Claw' funnily enough, and some gorgeous publicity stills from her debut '68 cult hit 'Baby Love'. I chose a Dracula Publicity shot which she signed to me, and one of the same to my local Norwich film mate Nigel who couldn't come. It was then that I presented her with the painting which she seemed genuinely surprised by, her first comment was "you got my nose right" and seemed taken with the paintings image and concept, no mundane portrait here folks. So she held up the painting to feature it in the shot as we had our photo taken together.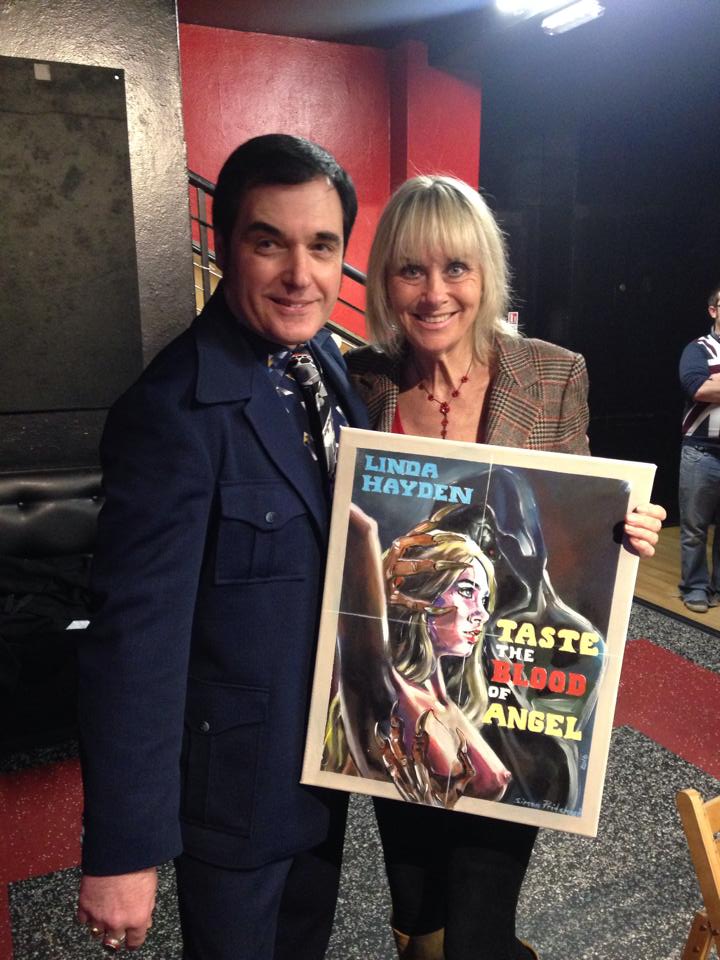 Yeah I realise this sounds nerdy but I've had such a love for my films since I was a kid that standing and chatting with Linda Hayden, this gracious lady who was that stunning mini skirt, knee length boot wearing Dollybird of the 60's and horror and sexploitation star of the 70's really did feel surreal, yet she kept it so down to earth like the 'Bird next door',
After venturing off for a look round the fair and it's varied memorabilia stalls while she signed for someone else it became apparent that I could have spent quite a lot of dough if I'd had three times as much disposable funds, but with a little patience and a keen eye I managed to find some real gems pretty piss cheap, my first pick being a book I've long been wanting but never got round to forking out for at the time so I had an adrenaline rush when I spotted 'Come Play With Me' The Life and Films of Mary Millington for a measly £5, brand new, never read.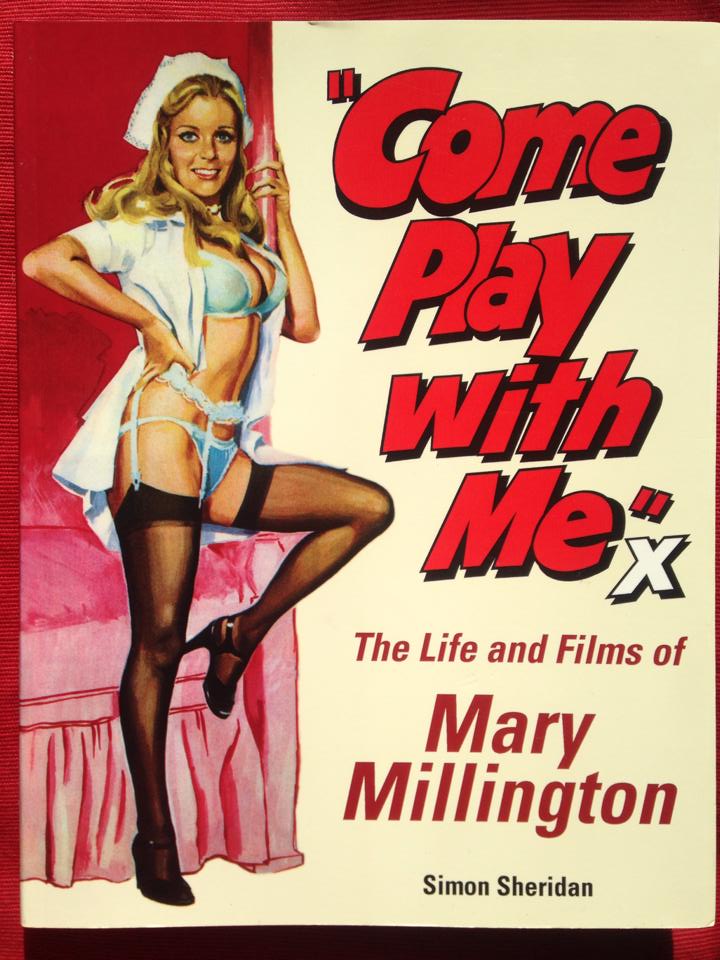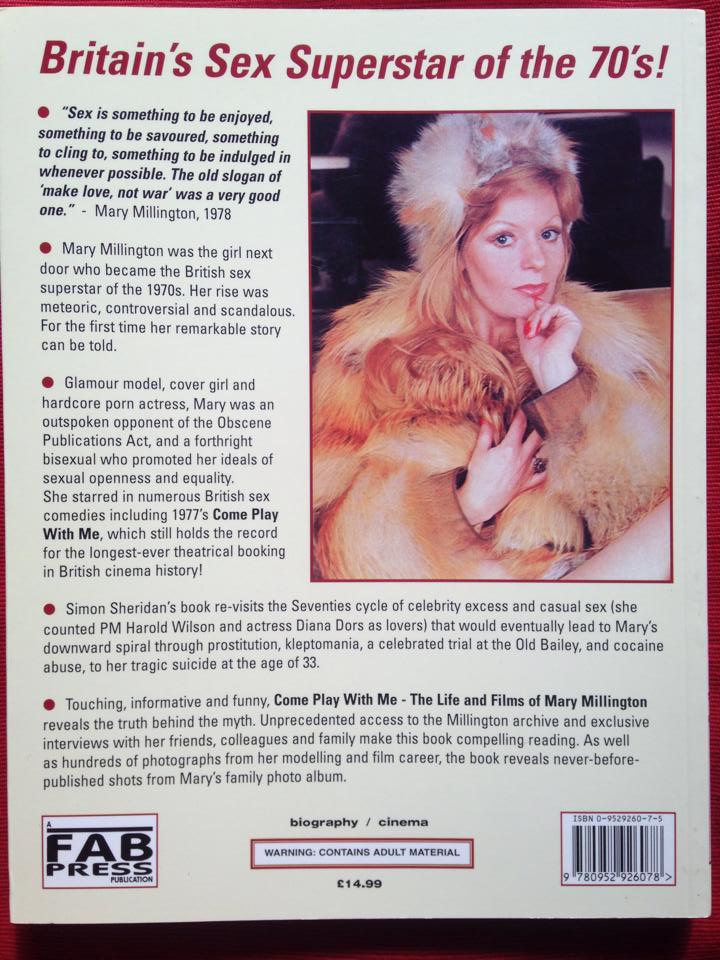 A stall selling old movie mags, press books and stills for a quid each, so a Charles Bronson cover and 'Goodbye Gemini' press leaflet wound up in the bag. A Caroline Munro poster magazine from the stall of the late horror magazine editor Richard Gladman was a welcome find but the icing on the cake for me, the big 'money' shot was two cool as fuck original Australian Daybill movie posters…the 1974 George Peppard action cop exploitation flick 'Newmans Law' and the Elliott Gould Cop flick 'Busting' also from 74, both for a Tenner, man that's sweet.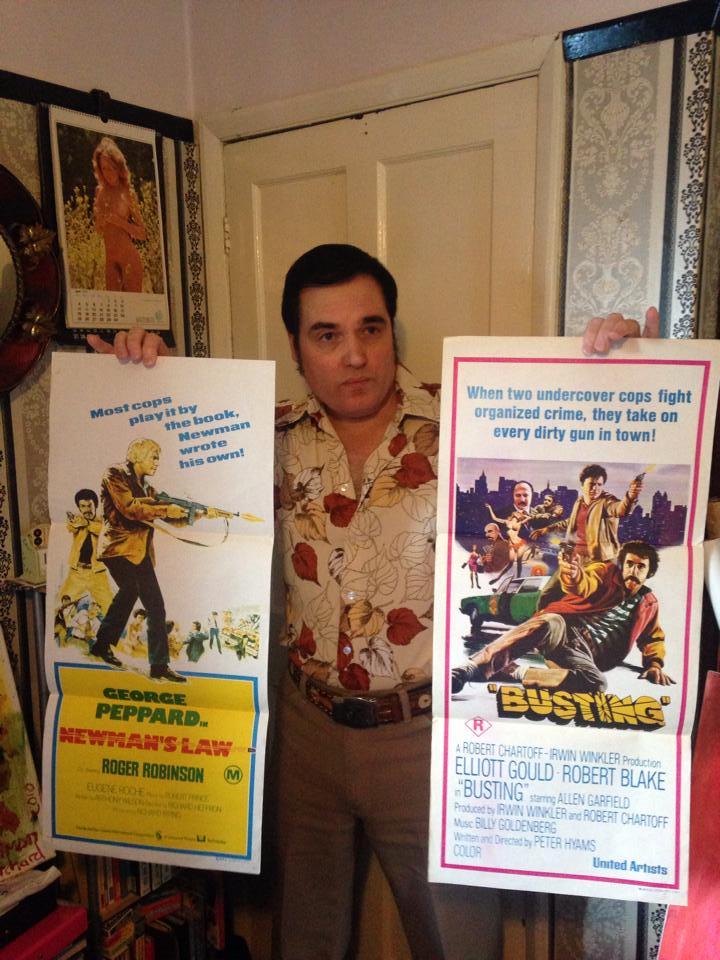 Too top off the visit we made our way back to Linda Hayden during a break in her signing and I purchased another still, just couldn't resist one more so a moody black & white from 'Baby Love' was the order of the day which got duly signed.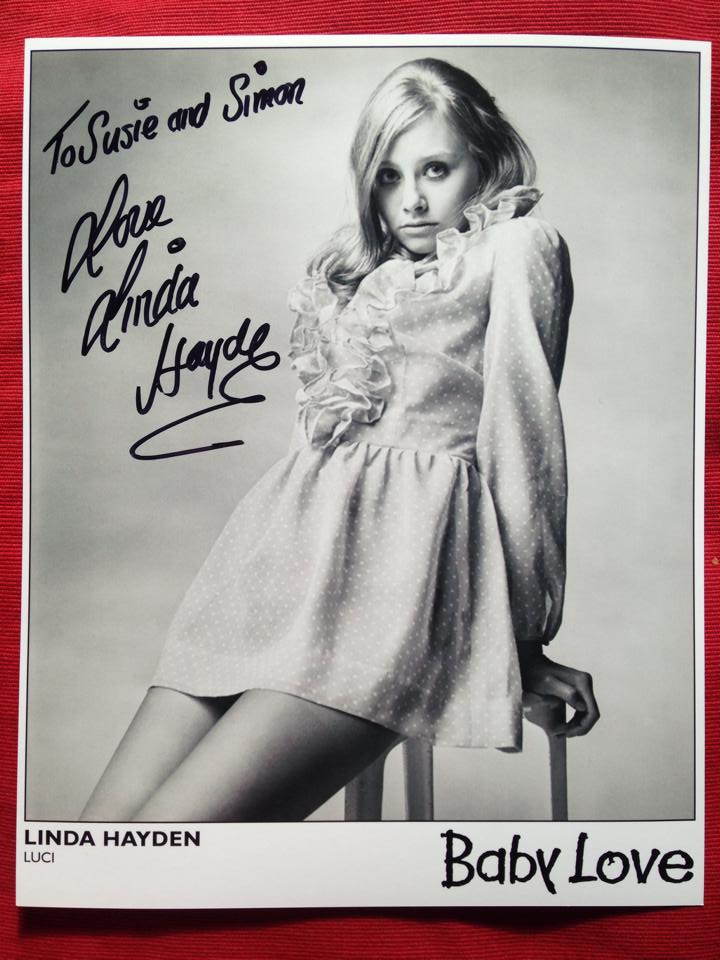 At this point Linda sat back and chatted happily with me about working for Hammer, Ralph Bates and how he was primed to be Hammers next Dracula but American funding and studio politics demanded that Christopher Lee should still remain the studio's Vampire Count and interestingly how her leading man and love interest in 'Taste the Blood of Dracula' Anthony Corlan was as she put it "a strange one to work with" but Peter Sallis, Geoffrey Keen, Gwen Watford and John Carson where a joy to act with. Her favourite film when I asked her though was of course 'Baby Love'. I never did get to talk about her 70's smut comedy classics, maybe next time.
Another last gander round then we made to leave,  it was touching that when we waved across to say goodbye to while she was signing for another fan she called back "Bye Susie and Simon, many thanks"…it's always gratifying when your name's remembered, it's a sure fire fact that I'll never forget Linda Hayden's…thanks for your time 'Angel'.
A great day, the best and most enjoyable thing I've done so far this year, I had a blast and it meant so much to me.
Cheers for reading folks, Happy Days.