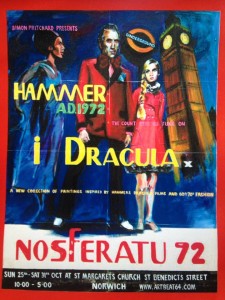 It's Sunday afternoon and after a night at an arts awards ceremony here in Norwich I've decided it's about time I got another blog post underway, it's been several months since my last one and here's part of the reason why. Well apart from commission work and art for our local Maddermarket theatre I've been busy putting together a new exhibition which will go on show this October leading up to Halloween. The title of this endeavour of personal passion goes by the name 'Hammer A.D. 1972…Dracula Gets His Funk On'
Now for those that know me well and for those who are savvy when it comes to the subject of British horror cinema they will spot the obvious reference there to Hammers cult Dracula flick 'Dracula A.D.1972' with a twist in it's tail.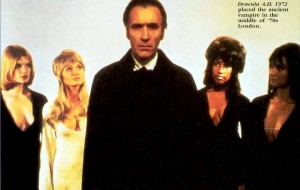 Yes Hammers much maligned penultimate Dracula sequel starring the mighty Christopher Lee is the inspiration not only for my exhibitions title but the contents of the paintings therein, a collection of images, scenarios and late 1960's and early 70's vintage style hand painted movie poster art for my take on what things could have been and where the story could have gone.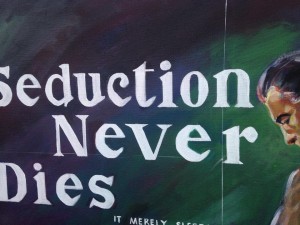 First of all let me explain the concept and where I got the inspiration from and most importantly 'Why'. Hammer made seven Dracula films starring Christopher Lee starting with 'Dracula' or 'Horror of Dracula' for our American friends in 1958 and ended with 'The Satanic Rites Of Dracula' in 73. For the completists of Hammers Dracula film legacy the studio did make two other Dracula films, 'The Brides Of Dracula' in 1960 that didn't actually feature the Count himself due to Lee not wanting to repeat the role so a disciple of Dracula took his place, then 'Legend Of The Seven Golden Vampires'  from '74 that saw John Forbes Robertson take the Dracula role after Lee finally and successfully refused to play him again. So A.D.1972 is Christopher Lee's last but one Dracula outing and for me is one of the most interesting films in Hammers Dracula franchise.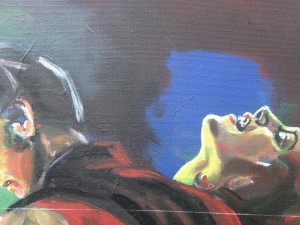 They brought Dracula into the 20th Century, and more accurately the beginning of the 1970's smack dab in the middle of swingin' London, a conceit motivated by the studios desire after the disappointing critical and box office reaction to their previous 'The Scars Of Dracula' to modernise the premise of Dracula and the franchises story lines. The Americans had enjoyed success with a modern day  Dracula like vampire flick 'Count Yorga Vampire' and this and other recent modern day urban set box office hits like 'Rosemary's Baby' prompted Hammer to update and contemporise Dracula.
I'm not going to give rambling run downs of the films minute plot details, it's pros and cons etc but the film failed at the time to please most cinema goers who found it too much of a brain twister to accept the vampire lord outside of his usual Victorian gothic trappings. indeed, Dracula in a world of Swingin' London dandies, beatnik hippies and dollybirds left most folk perplexed with this lack of understanding and imagination infecting the critics too, but who really cares what critics think?. Well sadly too many did and their failure to 'get it' helped keep audiences away.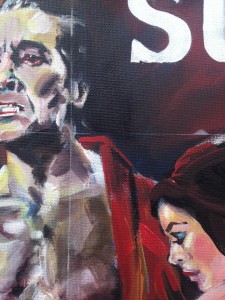 However this much underated film, flawed and misguided that it sometimes is, never the less is a fascinating foray into a moment in time and social history that saw much change everywhere and cinema was changing rapidly too. Horror was no less struggling to meet these changes and Hammer, the leaders since the late 50's in homegrown horror that made good around the world, tried to reinvent itself to stay viable and current, admirable traits in any business from music to fashion, film and television, social tolerance and politics.
I think to really appreciate Dracula A.D.1972 it helps if one loves the era in which it was made and set and I certainly do…the 1970's had some shit times but so did every decade before it and every one since, but it had some great stuff too, I was a child in the 70's near Birmingham so urban life of the time is familiar to me still, I find it comforting watching 1970's cinema, especially British films and the American stuff is still a reflection of my fantasy love of State side movie thrills of my childhood and youth and retains a timeless visual and musical appeal.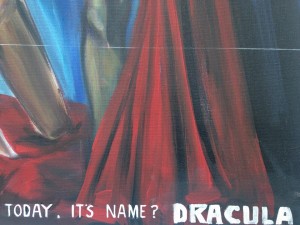 So to my concept for this exhibition, well 'Dracula A.D.1972' had a promising and intriguing  central idea, to put the vampire into modern London and this has always inspired my imagination, the what ifs and what could have been possibilities of Dracula inhabiting 70's big city life, all the modern things he would encounter and have to deal with, overcome and then ultimately take his place in this new society and finally conquer and rule. The film, great as I think it is, has so many missed opportunities it could have exploited, mostly I believe because Lee disliked the films story and refused to leave the confines of the films old Abbey location where the hippies and dollybirds resurrected him. The writers where content to let the hipster characters, baffled coppers, Peter Cushing's Van Helsing and Stephanie Beacham's stupendous cleavage do all the galavanting around town. So I've created a series of paintings depicting Count Dracula infiltrating 70's London life and finding he likes it, he likes it a lot, fitting in with the 'It Crowds', the discotheques, sports cars and penthouses, taking control of organised gangland and ingratiating himself amongst the Monarchy's 'in crowd' and the who's who of the showbizz and fashion chic elite, indeed Princess Margaret, Twiggy, Jagger and others will fall under his spell and 'invite him in', the vampire playboy lord will rule the City and get his funk on along the way. Oh and I've taken the liberty of incorporating some erotic European cinema elements into some of the work, just because I wanted to and to sex things up.
I hope for those who take the time to visit the week long exhibition in the perfect setting of St Margaret's Church of Art in Norwich from October 25th to Friday 30th and to those VIP guests for my 'final night' freak out psych out party when I'll be DJ-ing my own 60's and 70's vinyl will enjoy my funky, erotic, bloody and I hope fun take on this great Hammer film, the fashions of the time and the groove that Dracula could have had. I know Christopher probably would have hated most of these ideas but I'll be dedicating it to him anyway, he inspires me always and that's what characters and films should always do, inspire and ignite the viewers imaginations, to think outside the box that their stories have given us and the world they have created.
Thanksamundo for now folks