Holy hell it's been a busy couple of months firstly doing prep chores on my most recent art project / exhibition then a full months residency in a studio gallery here in Norwich actually working on the art for the project culminating in a private viewing and party to show off the finished collection and celebrate the finale of my month of endeavours. I guess it's about time I put some fresh blogs together about the project and the artwork I created, my motivations, inspirations and activities involved to bring it to life so here goes nuthin'.
Well to kick off it was called simply 'PEEP', no extended over thought out additions, just plain and simple 'PEEP'. The meaning of this moniker speaks for itself once the penny drops but a little nudge nudge wink wink might help those slow off the starting blocks…it's a collection of artworks inspired by the painted movie poster art of the 70's. Now for those that know me they will be well aware of my love for this long lost concept in cinema history and will also know that I've held several previous events featuring my own movie poster creations but this one had a twist of it's own, it was inspired by the poster art of of 1960's, 70's and early 80's sexploitation and triple X porno flicks of the adult film industry.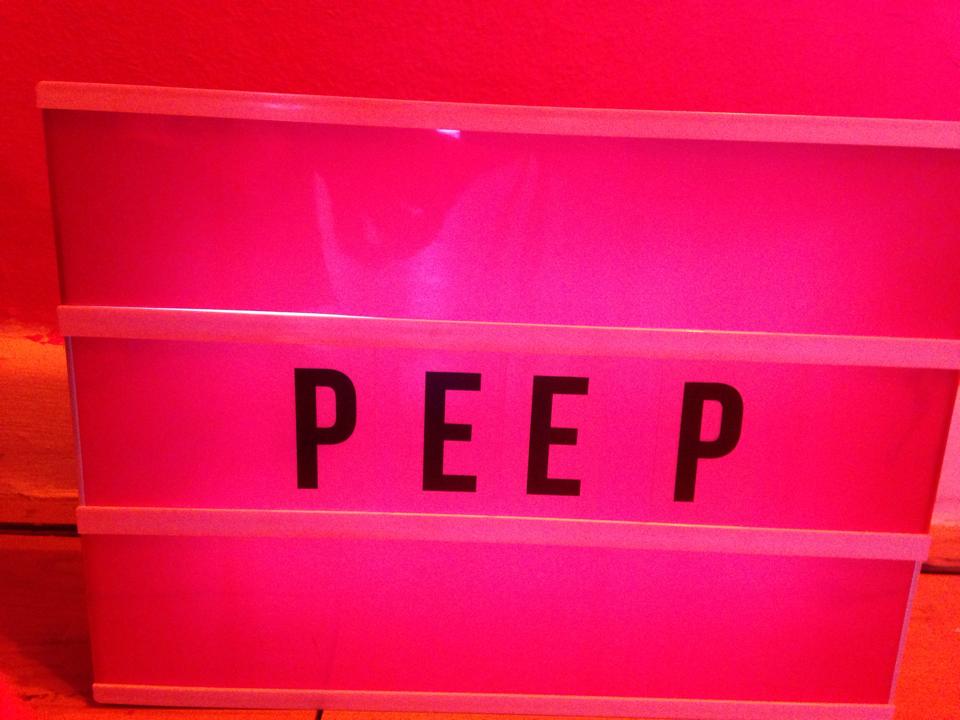 Now this genre of film was no different from any other back in the day and marketing art was employed in just the same way to entice patrons to shell out and buy a ticket to see the films in question, the large majority of film poster art was hand painted imagery just like those created for horror, sci-fi, comedy, thriller and other genres with many artists who designed and painted posters for those also applying their talents to X rated sex films too (though often under different names to avoid the risk of the legitimate mainstream film industry and other fields like non sex related book and magazine publishers for whom many of these artists also painted covers for not wanting the stigma of being associated with artists that produced art for 'Dirty Movies')…so I find the history of this genre from the era just as fascinating and relevant as many others and it's place in cinema history, popular culture and social history is important and deserves to be acknowledged.The advertising artwork for me was just as cool and beautifully rendered as those produced for it's genre cousins.
To get started I hired an art studio come gallery premises called 'The Barber Shop' for a month long residency to create my tribute to the world of vintage sexy cinema located on Magdalen street just on the edge of Norwich city centre and turned it into 'PEEP'.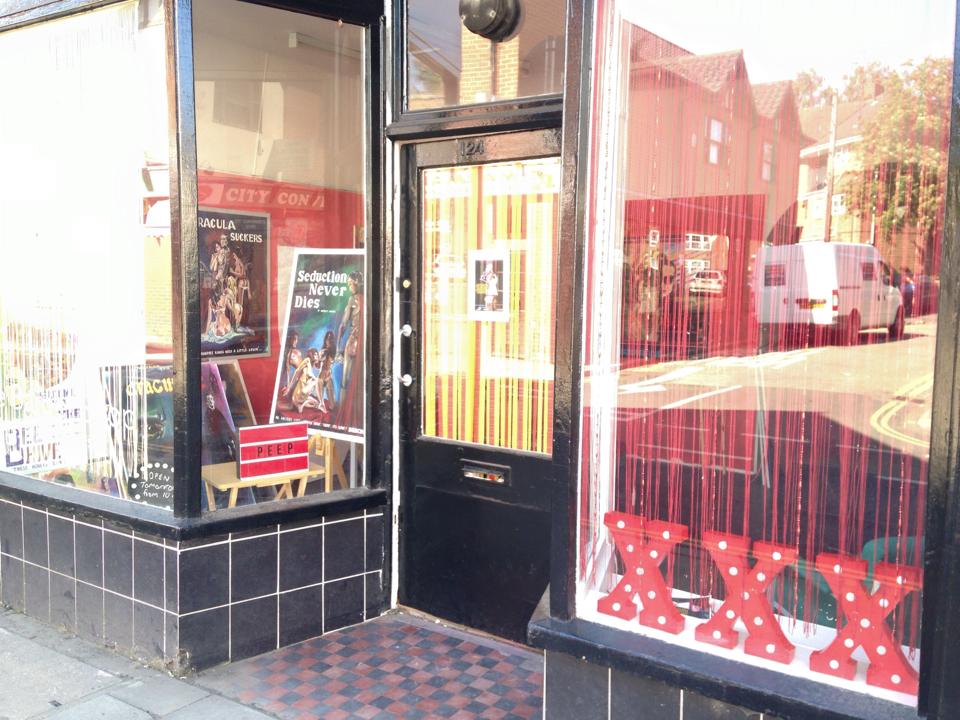 Usually various arty types book it out for a week or two to do whatever arty shenanigans they get up to during that time but I wanted longer to put together my project, produce all the paintings with the idea that people could drop in and watch me work and hear my motivations behind it, so a month it had to be.
For this first blog about 'PEEP' I'm gonna concentrate on the day I worked on artwork for the event involving live models posing for sketches and publicity photos to be turned into finished poster art for the final completed collection. So a whole day on my third Friday was devoted to working with two crazy ass females who just happen to be good personal friends of mine besides models, Beth Reeks and Liz Glover ( or just Glover as I prefer to call her, Sweeney style )…anyway, these two birds know me well and understand my mind and the things I love and where I'm coming from so therefore know what I want plus they both have the look and goodies I need cause they love the same things too. I wouldn't have wanted to do this stunt with models who simply get hired to do jobs then scoot, it needed to be with birds who 'GET IT' and these honeys got it all right, they got it good.
With my back room turned into a scuzzy lookin' den of debauchery, walls painted red, lecherous pink and lit with red bulbs and a 1970's projector with transparency slides of planets, star fields and galaxies projected onto the walls and across the girls the studio looked like a vision from a Times square sex show, exactly what I aimed it to be for 'PEEP' so no pissing about with photos afterwards in photo-shop or whatever it's called, just in camera magic, old style….I know what I want, it's in my head and it can be done for real, on the spot with all the tactile texture required. We nailed it.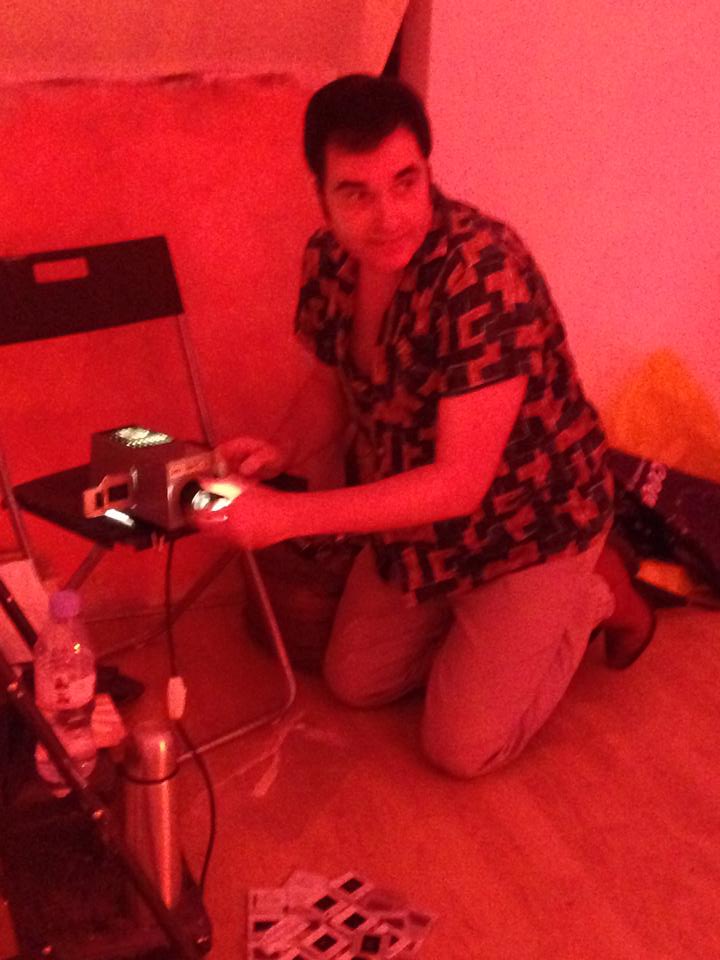 So after providing the vintage outfits I chose myself with some help from the wife's vintage clothing and nightwear stock and items from Reeks and Glovers own private wardrobes the posing commenced while I directed, sketched, blocked in colours and took photos. All the time my wife Susie documented the action with candid pics and behind the scenes shots.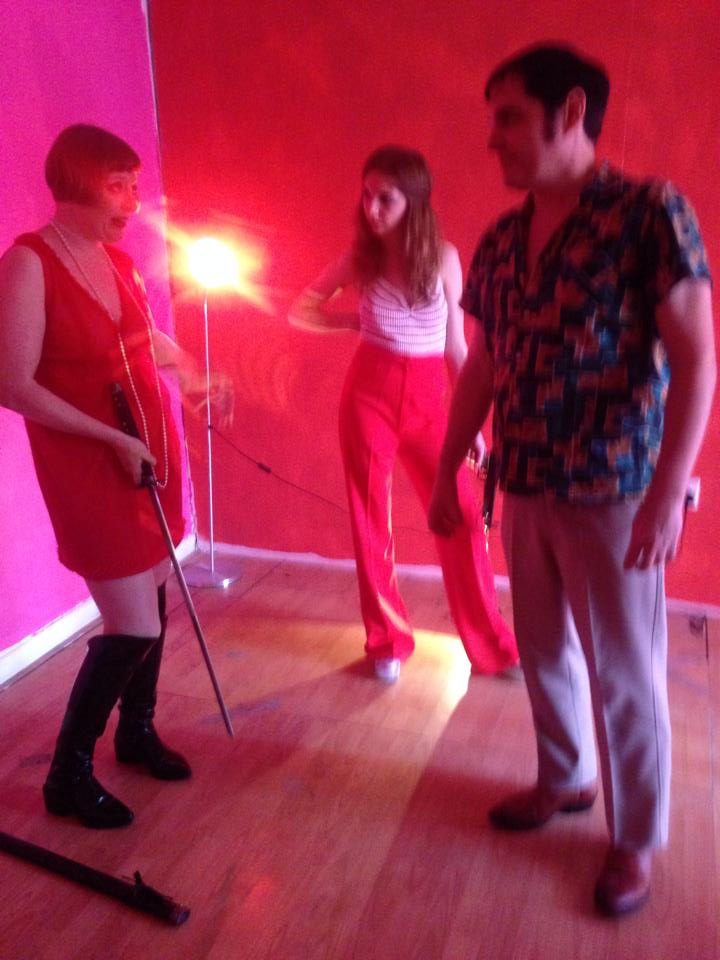 Okay so here's the thing, I had a very specific visual idea in mind for this live modelling stunt, I wanted to capture the look and vibe of the exploitation action movie genre ranging from the late 1960's, through the 70's and into the early part of the 80's, the glory years of the New York Times Square grindhouse cinemas and live sex peep shows of the era combined with the Soho sex cinemas of London during the same period. Many things inspired me here from films, movie icons, fashions, cult TV and adult men's magazines…yes I have a collection of em', so these elements were all worked into the visual mix with action movie ingredients to be given the X rated porno flick touch.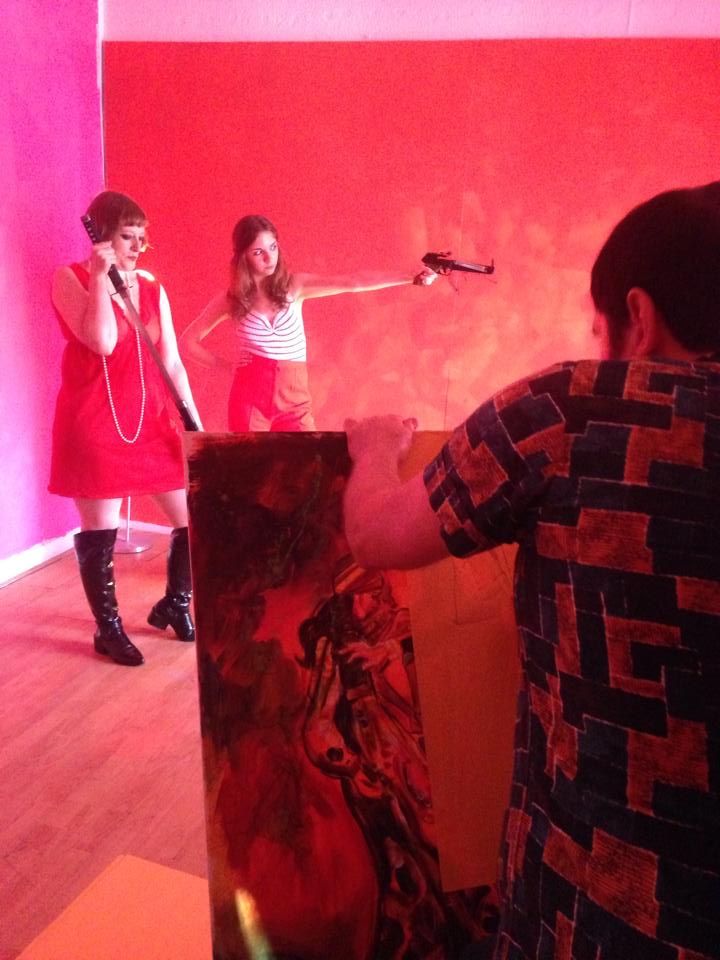 Both girls were able to capture different elements from the things I wanted to get down…anyone who knows me well will be aware of my love for female vigilante revenge thrillers from the 70's and 80's, one of them being the 1974 Swedish revenger 'They Call Her One Eye' aka 'Thriller' starring Swedish sex film icon Christina Lindberg in a tale of one girls revenge spree on those that abused her and blinded her in one eye. Glover is a perfect Lindberg type, I didn't voice that initially but both girls picked up on this when I started setting up the session. Decked out in red 70's flairs to channel a little bit of Charlies Angels and with a crossbow alternating with my Samurai sword as my revenge dealing weapons of choice Glover nailed the look. Check out how Glover catches some of Lindberg's presence.
Reeks fitted several of my other influences like a glove. With a combo of leather boots, red nightdress and the Samurai sword she caught the 70's does 20's floozy gangster moll fad of the 70's porno flick with the tough action females like Sybil Danning and Linda Blair in 'Savage Streets.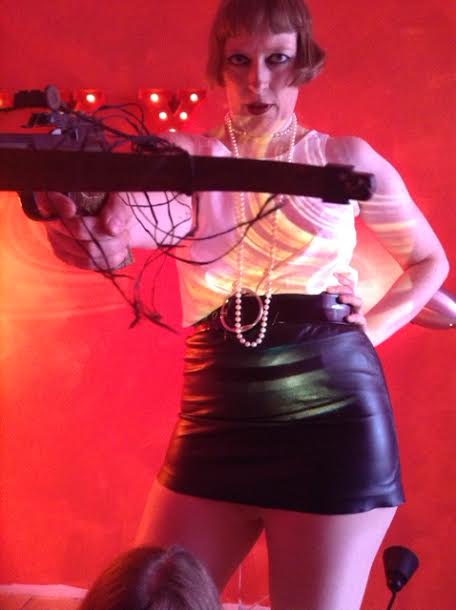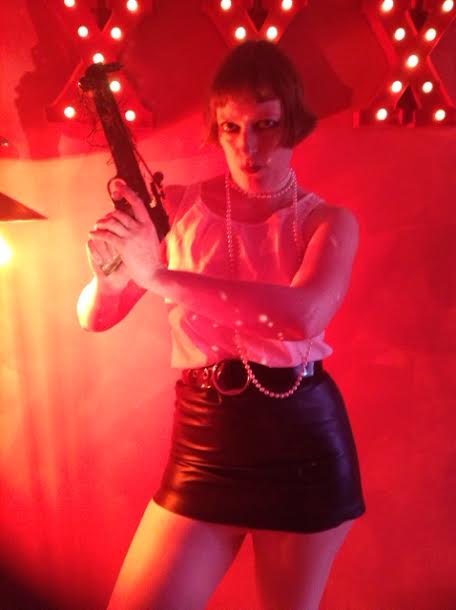 While this was taking place I worked on several loose sketches in pencil that I planned to work up later on into finished poster style paintings and using the photos taken during the session as reference for the painting work. My good mate photographer Gary Yallop arrived to take some behind the scenes shots of us working so a big thanks to him for capturing this cool shot.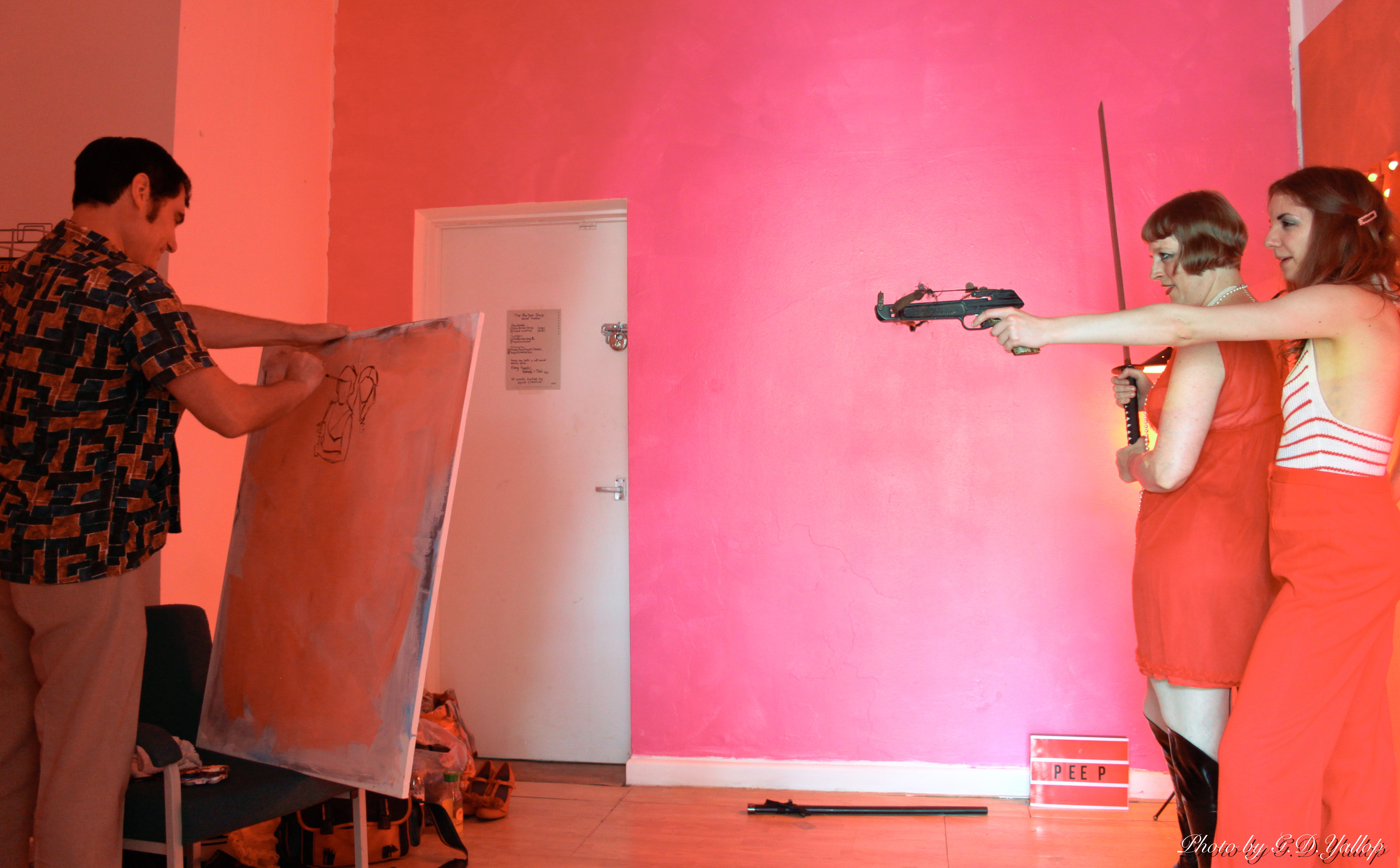 After a quick outfit change Reeks & Glover aka Beth & Liz proceeded to pose for my favourite of the two looks…Glover really encapsulated what I'd hoped for from her role, Christina Lindberg's One Eye revenge legacy really came into play here with a huge dose ( in my mind anyway ) of the late great Zoe Tamerlis Lund, the vengeance seeking mute girl from 'Angel Of Vengeance' aka 'Ms. 45' from 1981.The outfit, an orange 1970's baby doll night dress that I chose with Lizzy's own black knee boots brandishing my prop snub nose 45 colt formed the perfect sleazy and deadly Times Square vigilante hooker Angel of Death I could have prayed for both in shots by herself and flanked by a no nonsense black leather mini skirted Beth Reeks. Here's a selection from this part of the session along with images of Christina Lindberg and other exploitation stars that influenced me like Tamerlis, Dyanne Thorne and even Wonder Woman herself Lynda Carter that I feel Beth and Liz channeled the vibes of and a few of the cult films that my imagination referenced such as the 'Doll Squad', 'The Female Bunch' and 'Hustler Squad'…note how the colour orange figures here, one of my favourite colours.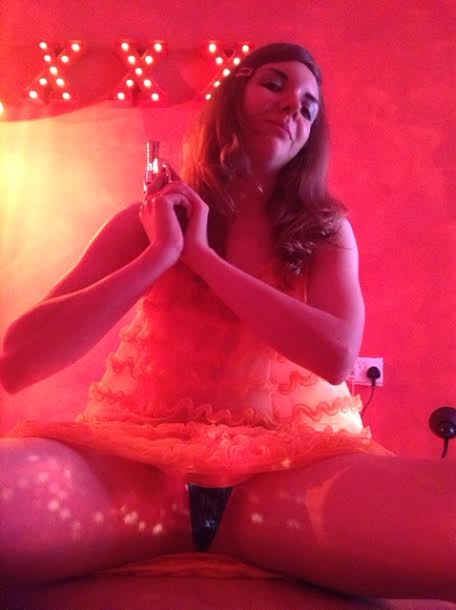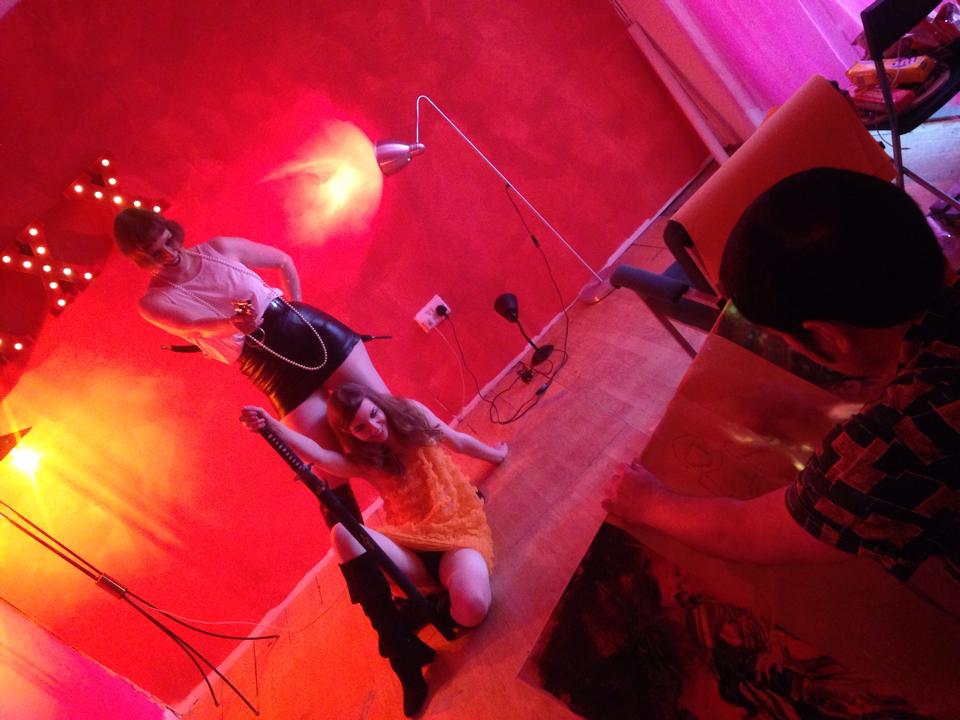 Christina Lindberg, Reiko Ike and Linda Carter
Zoe Tamerlis Lund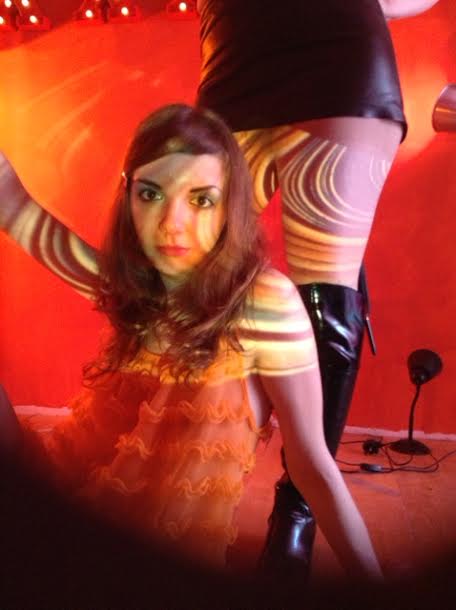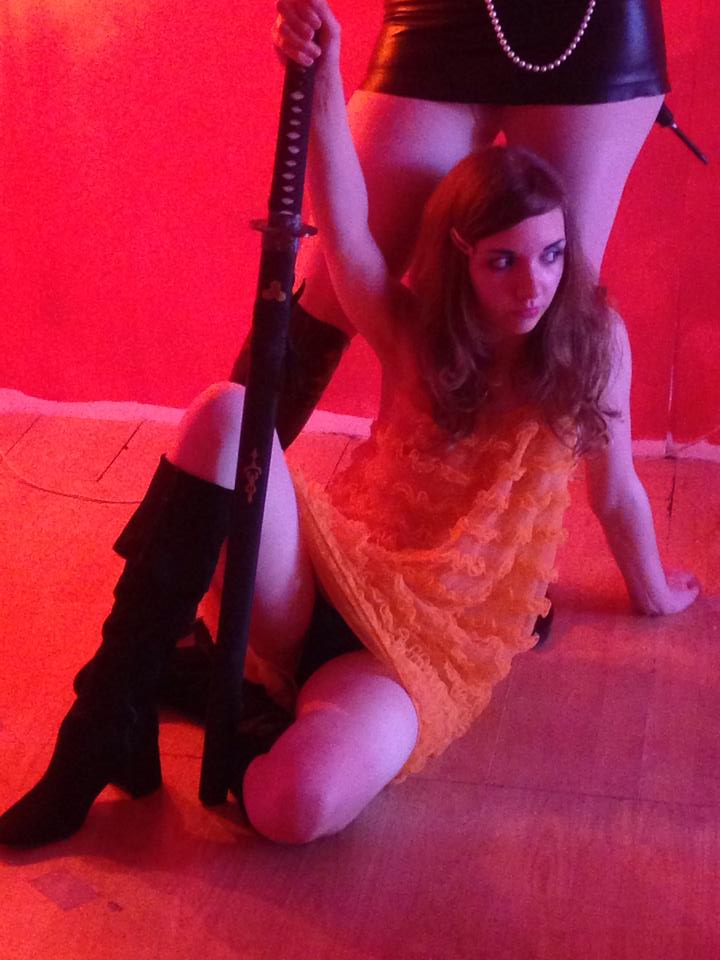 Liz Glover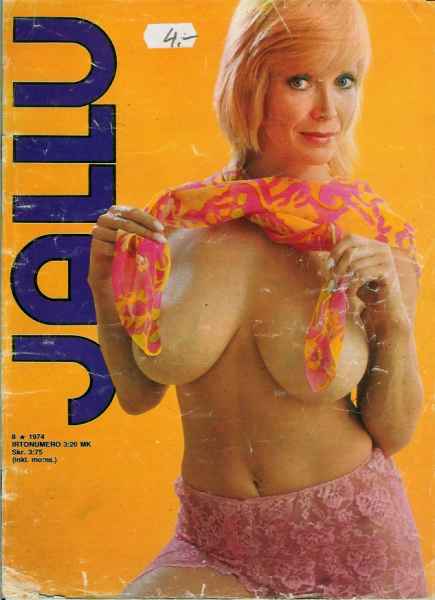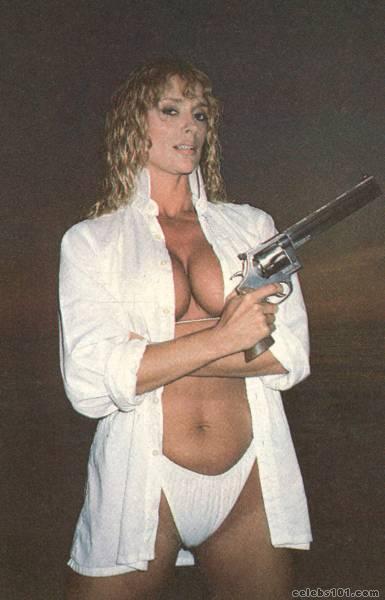 Dyanne Thorne and Sybil Danning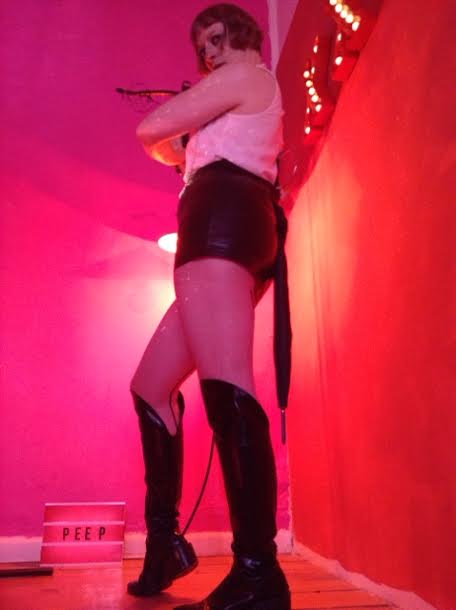 Beth Reeks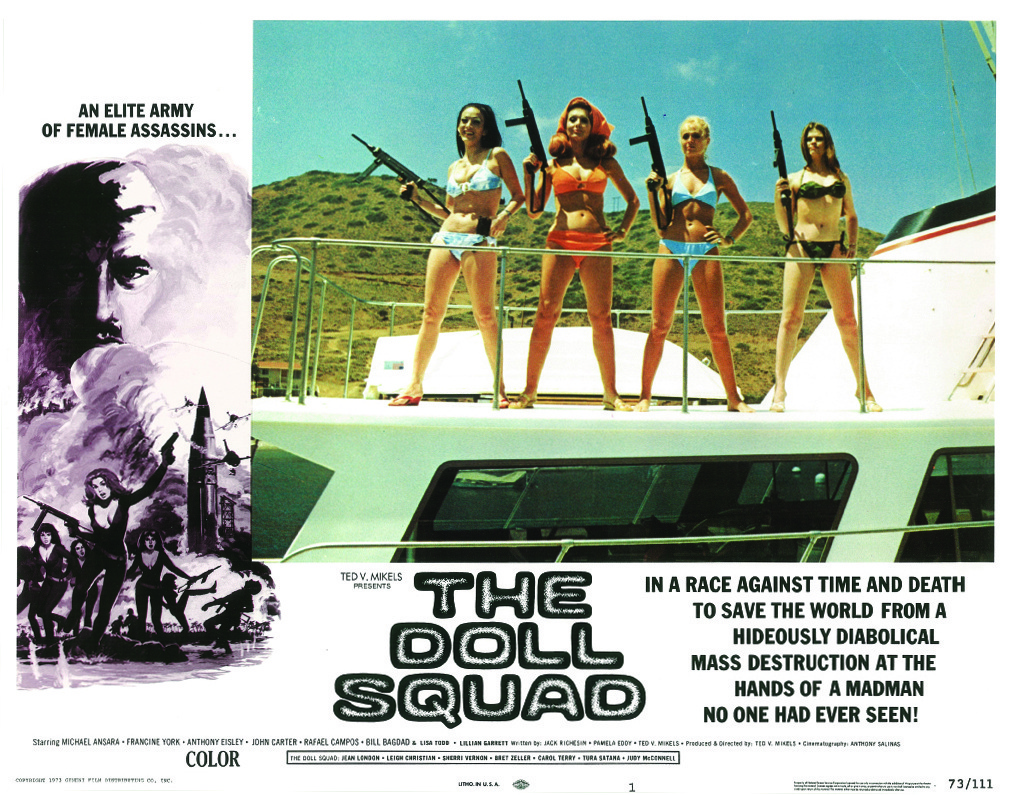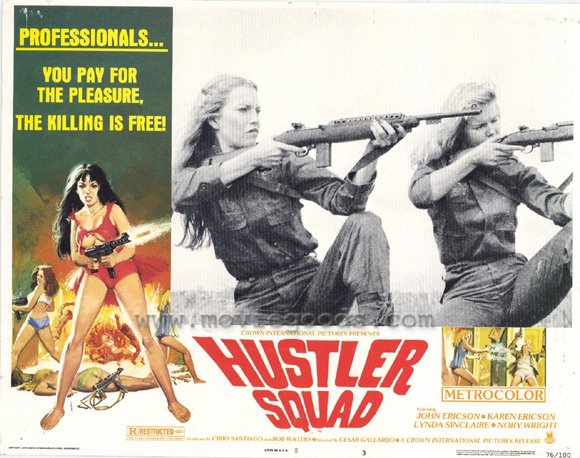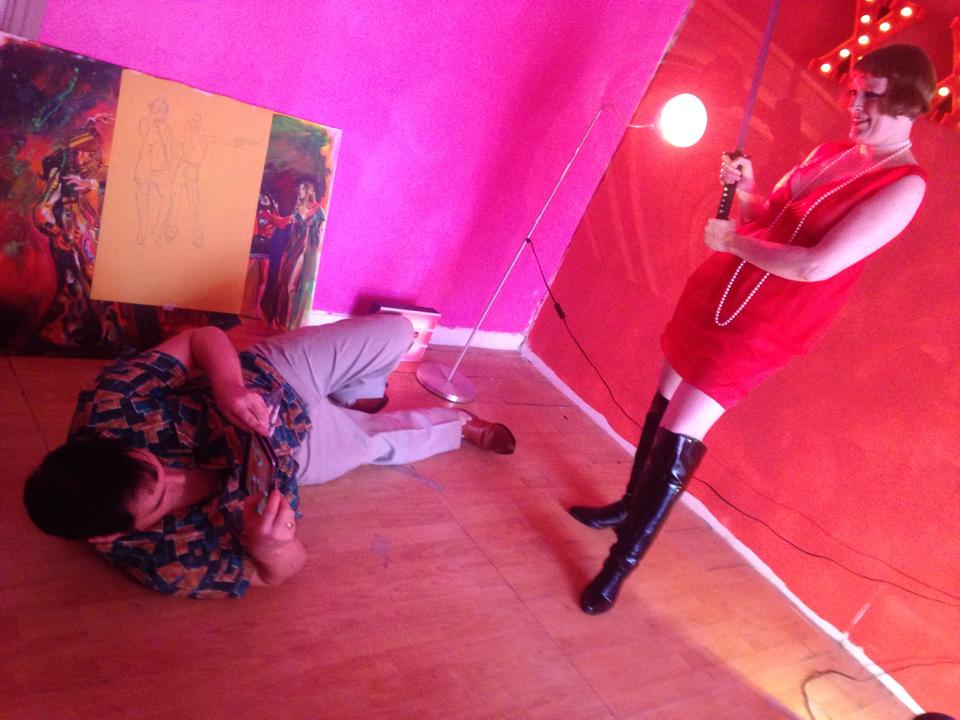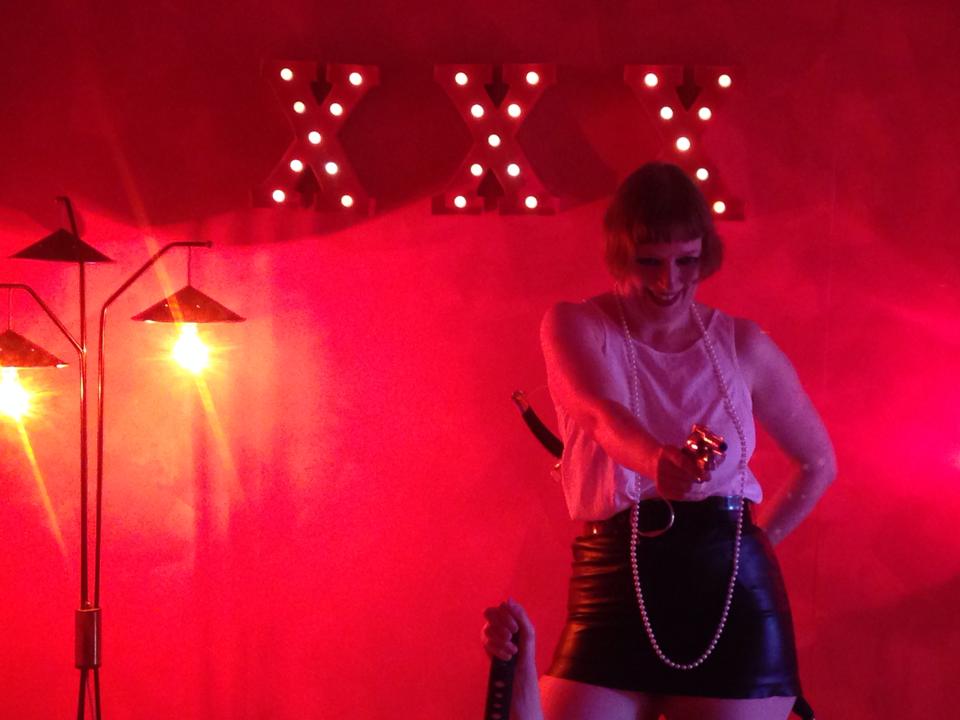 Beth Reeks
After a long but fun filled day in which a number of people dropped by to watch the action unfold with the girls throwing their moves and me putting the sketches down on paper and canvas plus Gary taking his own set of photos and our friend Mark putting a look in to help me take the piss out of the girls it was a very productive session. I worked on turning my sketches into a pair of lobby card style pieces, like the old ones used in cinema lobby's and front of house to help promote the films, they usually consisted of painted artwork with a still from the film on each one to give a taste of the movie. They usually came in sets of between six to twelve but I only managed to get a set of two completed, called 'The Glover Lovers' before the last day private view party, time just ran out but here's a selection of behind the scenes modelling shots and the finished artwork.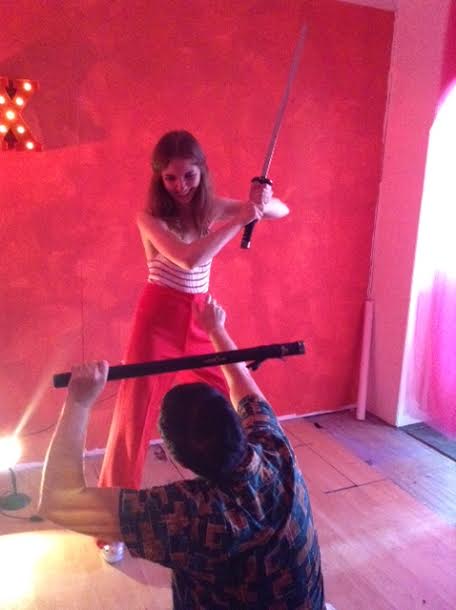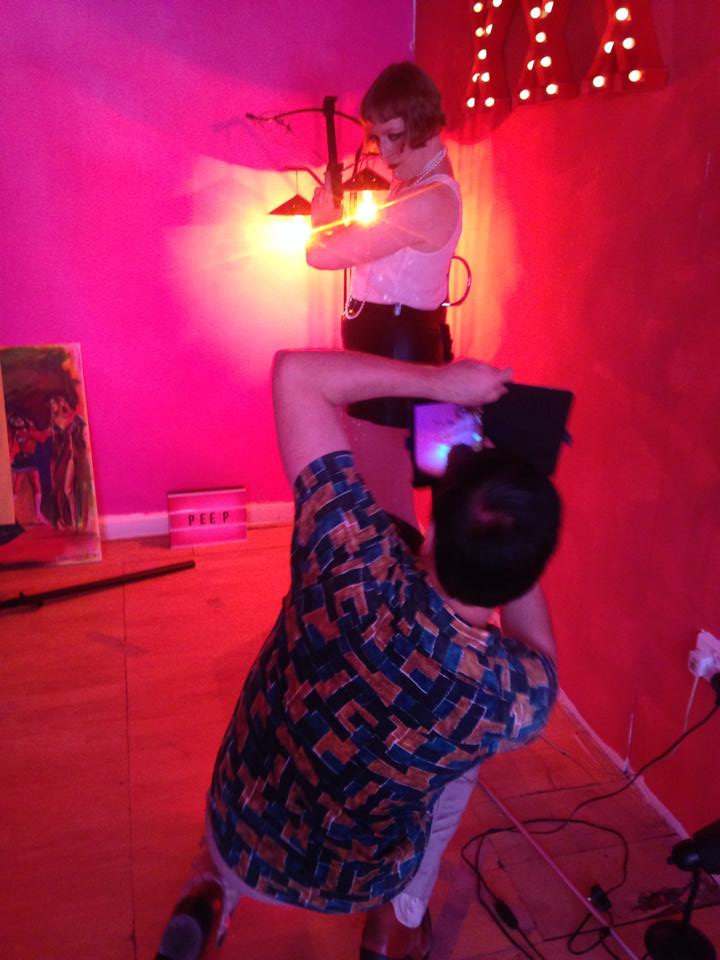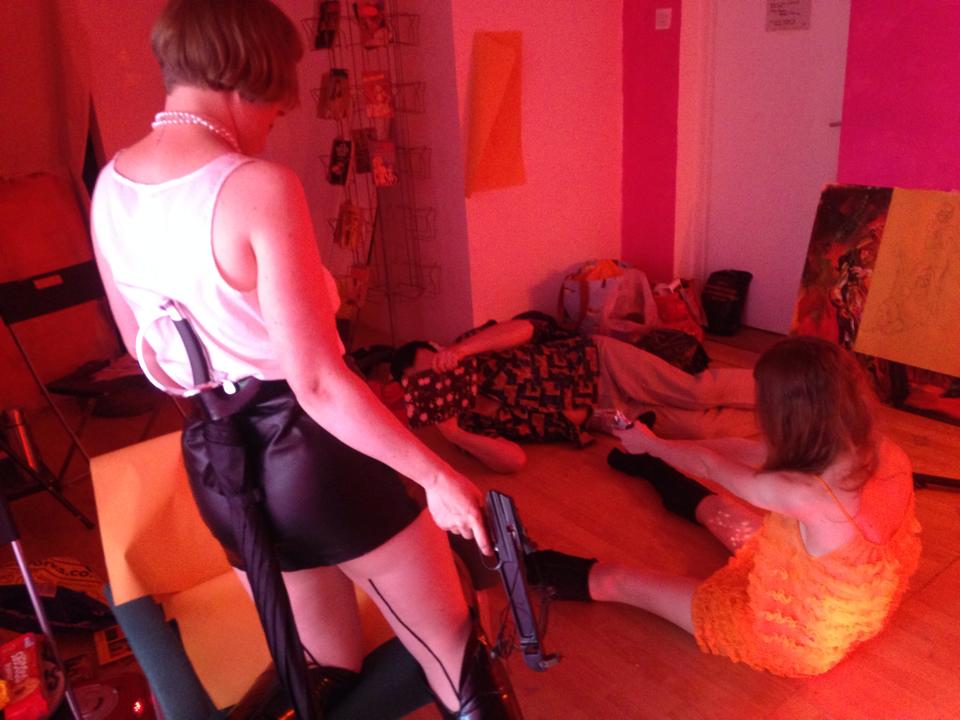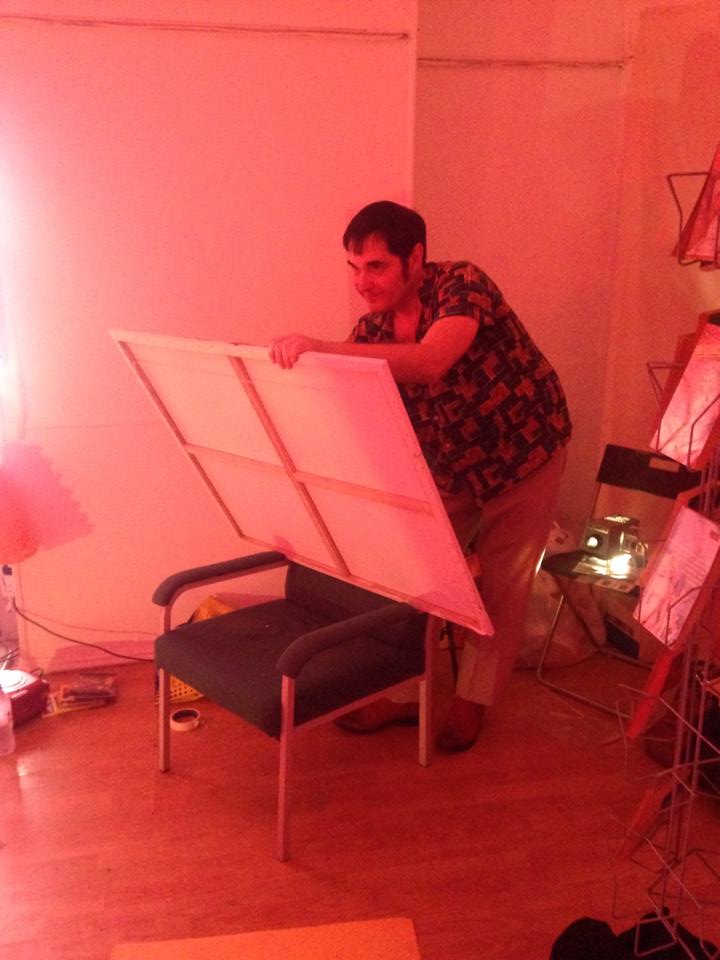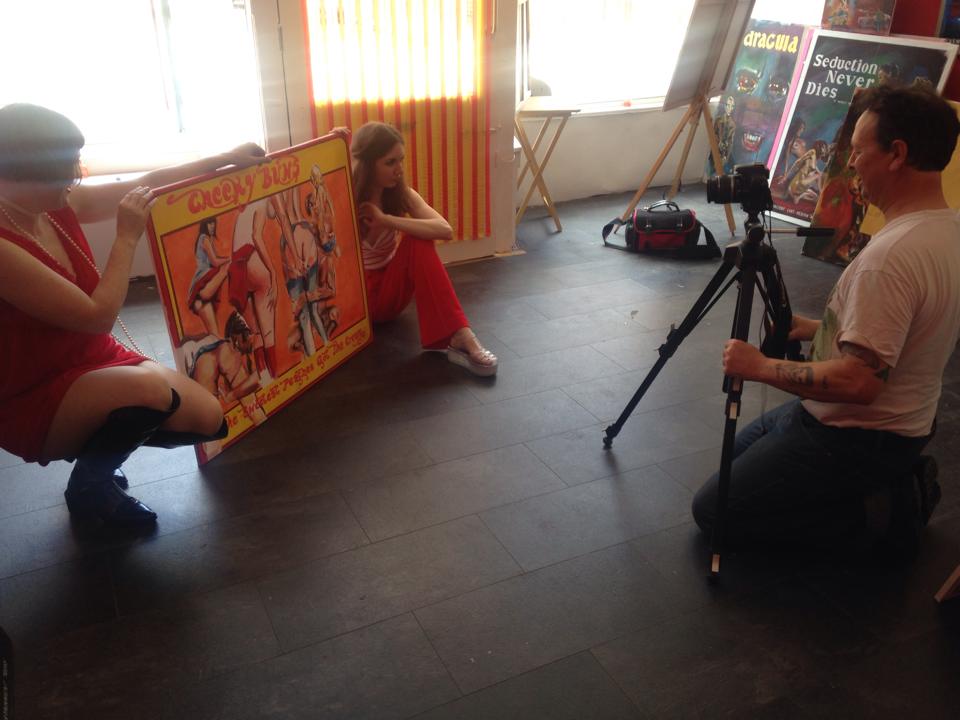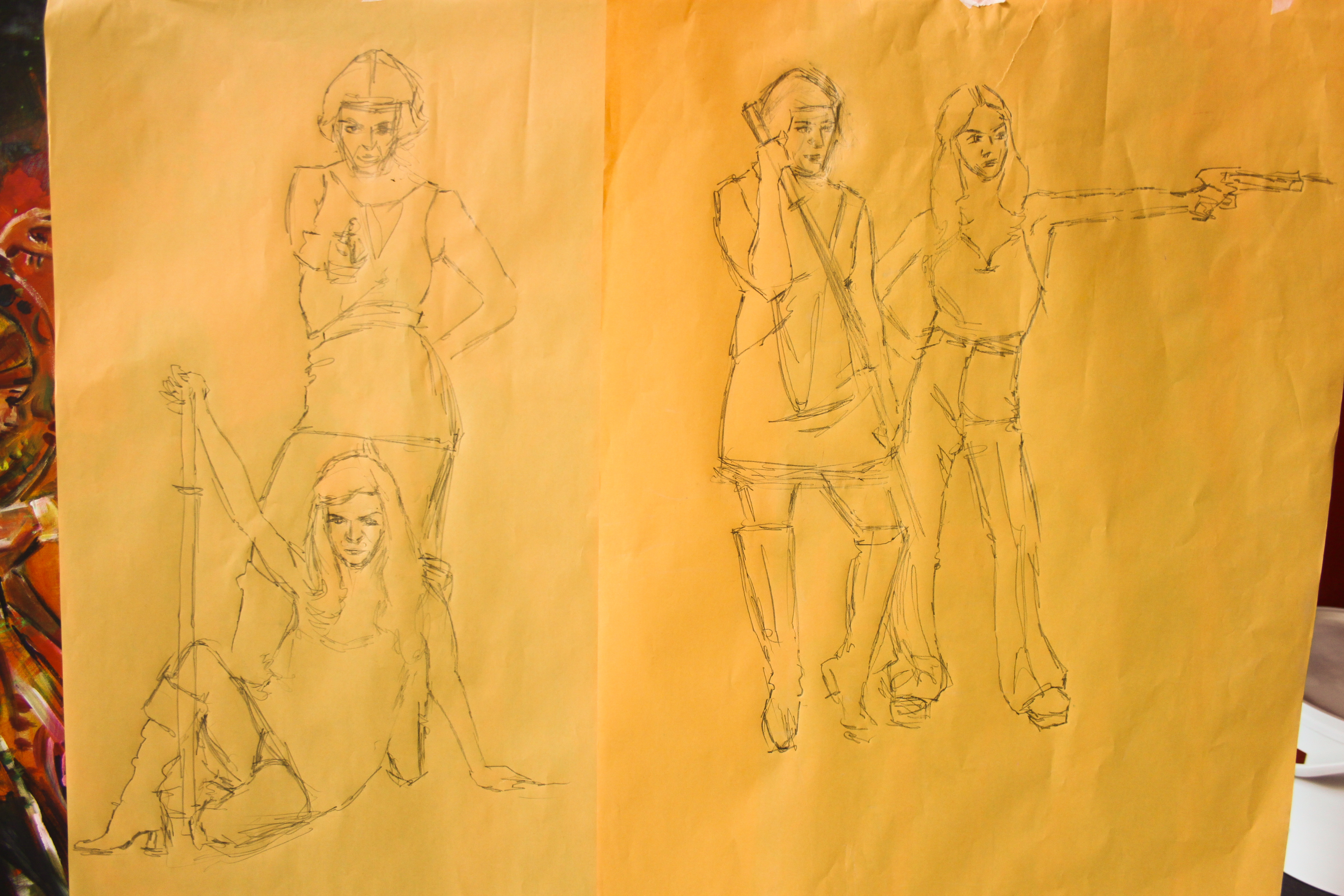 Several of the sketches produced during the modelling session that later got adapted and worked up into the finished lobby card inspired paintings incorporating a photo image taken during the shoot on each one, old school 70's.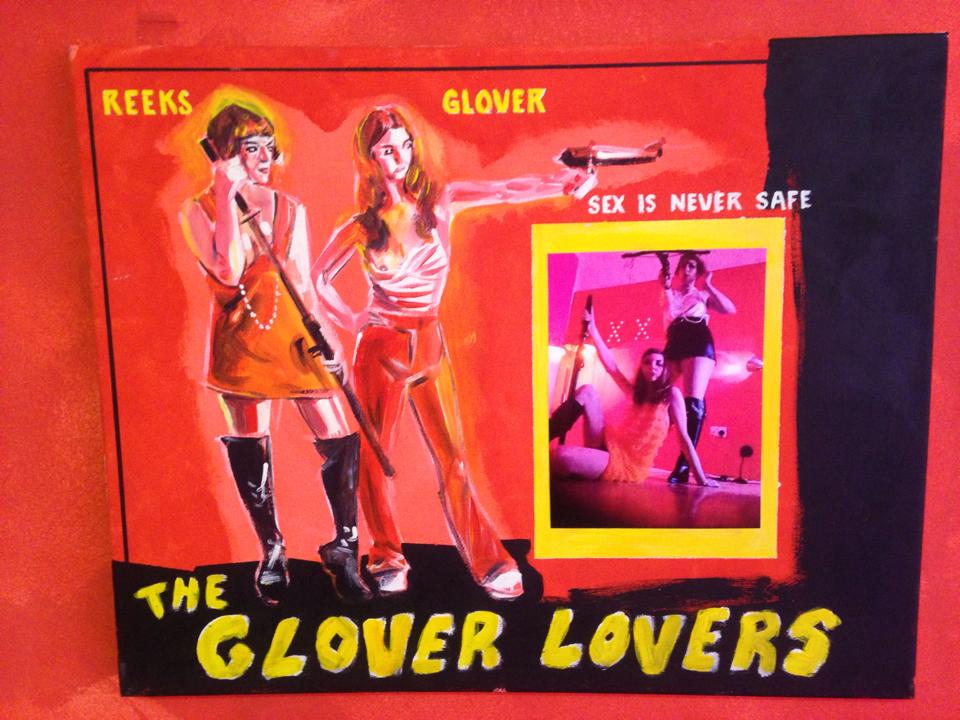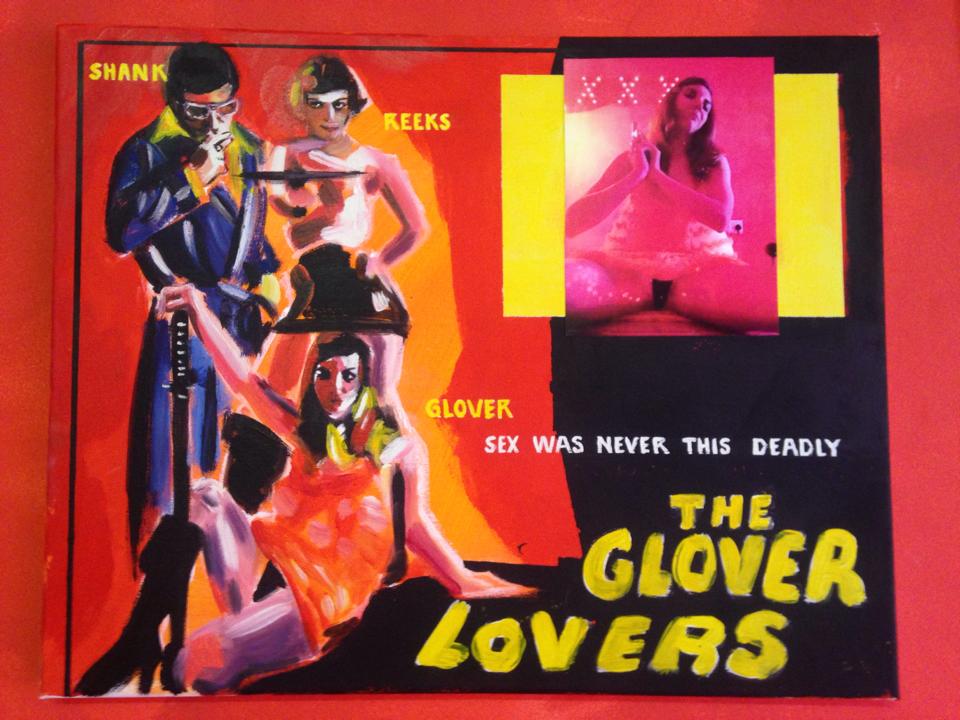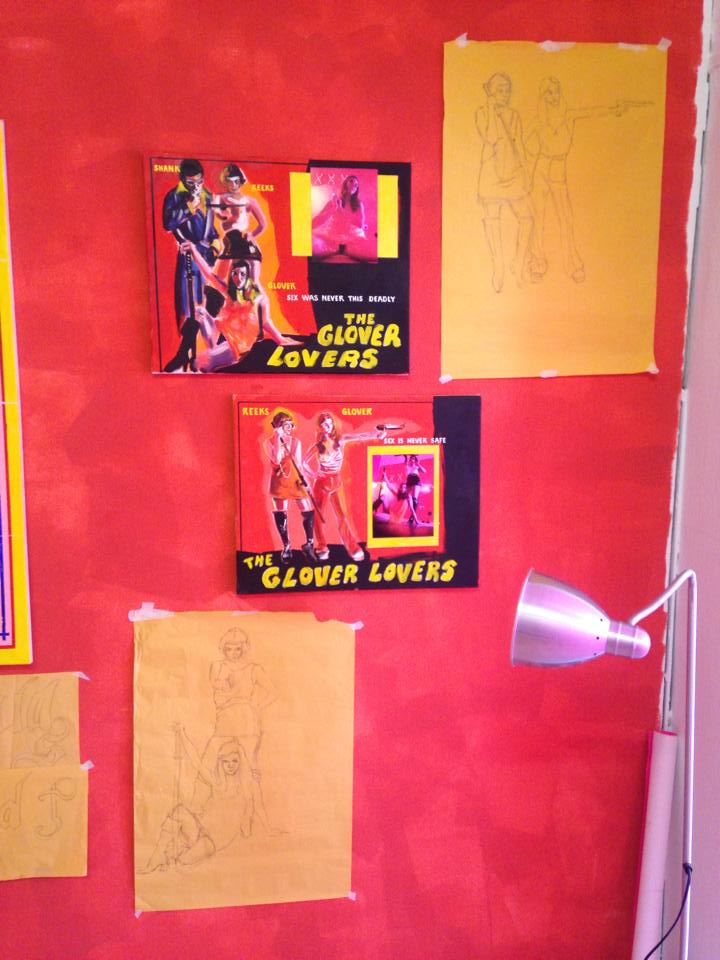 A big Thanks to Reeks  & Glover, you nailed it girls even though your concentration levels went off the radar towards the end, you're just crazy ass nuts. Here's to turnin' it into a film. Thanks also to Susie for all her support and encouragement & giving me access to her stock of vintage clothing and to Gary for taking photos some of which are included here.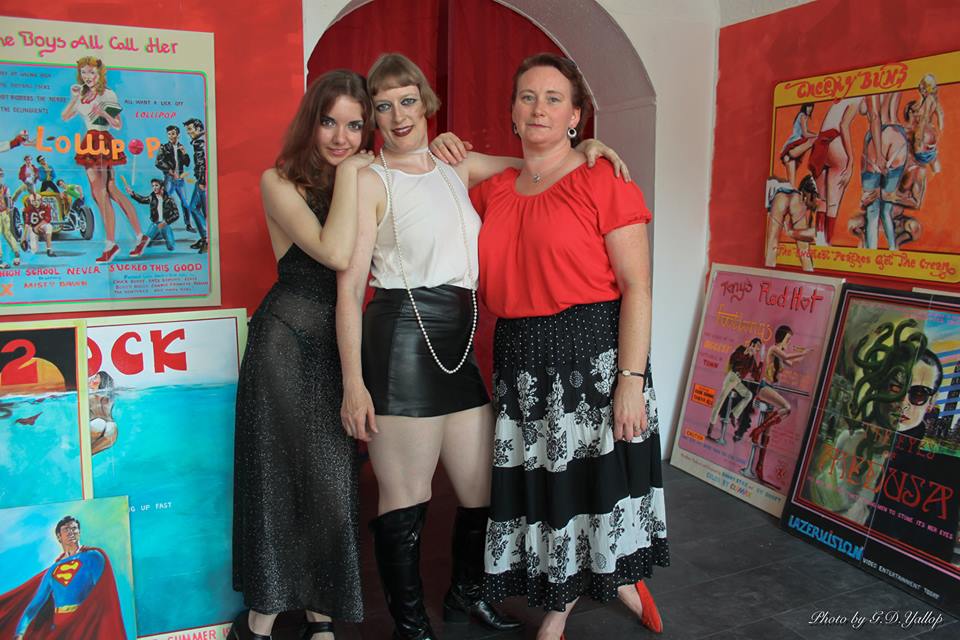 A blog on the 'PEEP' project and completed collection will follow shortly…thanksamundo for takin' a 'PEEP' folks, you should be ashamed of yourselves xxx.