New Years eve! okay then the the end of 2015 is nigh and to be honest in some ways I can't wait to see the end of it, to wave it's stinkin' arse goodbye as it disappears into the time tunnel, yep it's been a year of uncertainty and challenge but 'eh' things are sent to test us right and for myself and Susie we've had a few hurdles to toss over but I'm glad to say that between us both we have kept our heads above water and achieved some great and encouraging things along the way for both our work and businesses and touching my 'wood' it should hopefully bode well for the coming onslaught of 2016.
Susie was made redundant from her job at the end of 2014 so it was a very unsettling thing for her to start afresh but her desire to set up her Wake Up Little Susie vintage nightwear business on a full time basis boosted her along and it's been a pretty fun ride as I've been involved with most of it myself, as sounding board, model for various fashion shoots and artist for her events advertising, and I've enjoyed being a part of what she's achieved during the year.
On my own side of the bed I've had a very busy  year with all the work and projects I've produced from commissions to exhibitions and shed loads of fun stuff that I'm proud of. I finally got my own very cool website Artbeat64 thanks to Retro Chick which includes a shop section, so please take a look.
The year pretty much kicked off with some artwork for Norwich Fashion Weeks Vintage show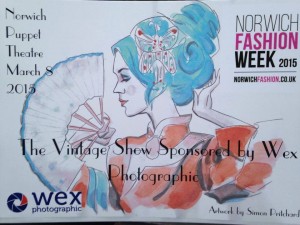 through to some modeling work for publicity material that Susie needed for her business promotion with photographs taken by our photographer friend Kerry Curl.
A week away lookin' awesome in Spain to get some much needed breathing space before it all kicked in was enjoyed in Feb.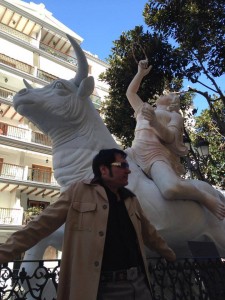 One of the things I'm most proud of this year and which has proved to be very rewarding on a personal level has been my involvement as an actor with the Maddermarket Theatre here in Norwich. Backing up a tad, well about twenty seven years actually, I studied drama after I left school back in the mid 80's, first at a regular college where I also studied film animation before going onto a full time drama school in '87 for several years while also moonlighting at another drama school in the evenings for extra experience. I won awards, achieved several exam qualifications and worked on a number of amateur shows at the school as both actor and poster artist and prop making. I was advised to take it further in London to build on my potential but at this point I was already involved with the 1950's rockabilly scene that I was so passionate about that I put my acting desires on 'hold' to get more involved with the social scene I was getting more and more obsessed with. Well that 'on hold' period lasted much longer than anticipated and soon afterwards I moved to Norfolk and never did get back to performing in theatre. I always regretted that and wish I'd got involved with it again sooner so when Susie spotted an ad in the local press from the Maddermarket asking for actors to audition for a stage play of Shakespeare's Antony and Cleopatra I thought okay bollocks to it, I'm going to try out for a part and I'm happy to say that the plays director Peter Beck offered me several support roles after my audition, Mardian, a eunuch man servant to Cleopatra, several brutal Roman soldiers and a messenger in Caesar's court. Man it felt great, I enjoyed the experience so much from rehearsals, costume fittings, dress rehearsals to final production performances.
 I can't express just how invigorating it felt being on a stage again. For quite some time I felt like I was missing something and stifled by the things that can  pigeon hole us into others expectations and the way one is expected to be, I've always had a strong willed aversion to that and I felt unfulfilled creatively in this respect, I needed something for 'me' besides my painting and trust me it's a very liberating thing being in a stage play performing to an audience. After being in this play I felt like I'd rediscovered that side of myself that was absent for so long.The show was great, I worked with a great cast and have made many friends at the Maddermarket and hopefully I'll be in another play next year ( in fact several others were offered this year but sadly they clashed with other projects of mine so with any luck next year beckons).
As a knock on effect of this I got to paint the show poster for Antony and Cleopatra and also the Maddy's productions of Agatha Christie's Murder On The Nile and Afternoon At The Seaside and several other art contributions to the sets of other plays, Deep Blue Sea and Star Quality.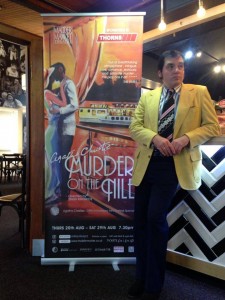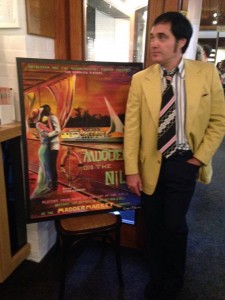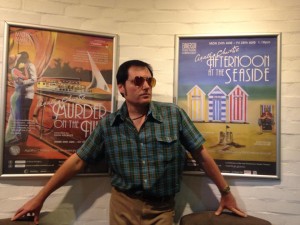 The Maddermarket rears it's head again here when I was lucky enough to meet actor Robert Powell after his fine one man show and present him with a painting inspired by the Amicus horror film 'Asylum' that he made back in 1972 amongst a number of other cult horror flicks during that period. Anyone who knows me well will realise how passionate I am about British horror films of this period so this was a very special moment for me to chat with an actor who worked for the mighty Amicus studios.
It was my own version of the poster for the film and I'm pleased to say he was most gracious and impressed with my art and spoke fondly of his work on the film, his co stars and other films in his career, a very nice man indeed.
During all this and working on stuff with Susie for her business venture too, especially her big show Fly Me To The Moon at the Library restaurant in November.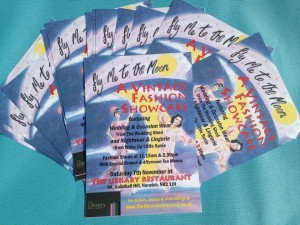 I worked hard creating my big exhibition for this year…in the wake of Christopher Lee's passing, a man whose films I love dearly, I wanted to base something inspired by him and the mighty 'Hammer' studios. So  'Hammer A.D. 1972 – Dracula Gets His Funk On'  was conceived.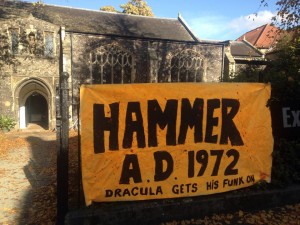 My take on a Dracula cult classic with all the horror, psychedelic funk and eroticism that exists in my head but never fully made it to the screen. To help publicise the exhibition I got to make my third appearance on Norwich TV channel Mustard TV to chill out on the couch and chat with Dan Bancroft & Beth Davison.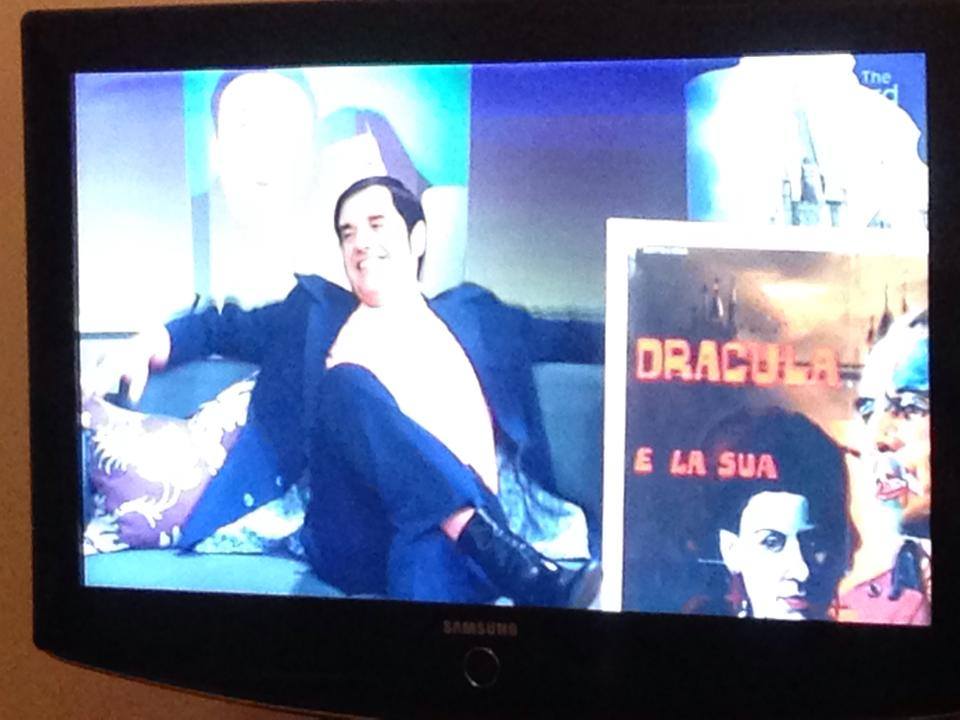 The week long exihibition leading up to Halloween in the most perfect and apt of venues, the fourteenth century St Margaret's Church in Norwich was a big success for me and my art plus an end of exhibition bash that I DJ-ed myself with my own 60's and 70's vinyl
 and attended by an infestation of freaky friends who got into the horror and vampire sleaze vibe and funked out
so a big thanks to Siofra Connor, Mel Raven, Sam Skouros, Marty & Sharon.
and many others and a big thanks to that Glover bird who did a great Caroline Munro impersonation, costume and all with a wonky wig who never left the dance floor.
Lastly I'd like to thank the one who matters most, my trouble and strife Susie who despite working intensely on her own events, projects and business this year always supported my own endeavors to the hilt so thanks Susie, I love you.
So that's me done bangin' on, loads more I could piffle on about like seeing the Sonics in Norwich, both the Jerry Lee farewell concert and  Sinatra at 100 anniversary shows at the Palladium and finding the coolest '70s safari suit so far, but screw it, this'll do.
Hope you all have a great 2016 folks, friends old and new, and thanks again to everyone who supported me and Susie this year.